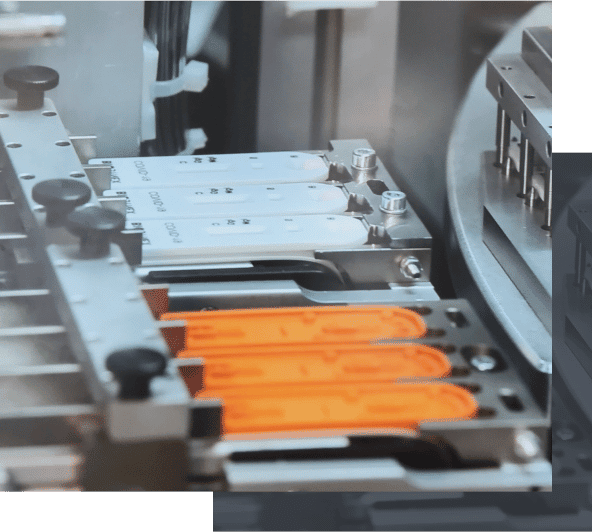 Specialising in the design and distribution of rapid diagnostic tests in France and in more than 90 countries, Biosynex, French laboratory, created in 2005, offers healthcare solutions that improve the overall treatment of patients.
In close collaboration with healthcare professionals (pharmacists, laboratory technicians, doctors, hospitals, etc.), we develop rapid, simple and practical solutions that facilitate the prevention, screening and implementation of medical treatments adapted to the needs of both patient and healthcare professional.
With annual sales of €383 million in 2021, it is the French market leader in rapid tests
Learn more
12 June 2023

BIOSYNEX acquiert PROCISEDX

We are pleased to announce the acquisition of the North American company ProciseDx! This acquisition strengthens our laboratory's presence in the United States, and represents a...

2 May 2023

SEC CHEMBIO documents

Documents filed with the SEC. Acquisition of CHEMBIO DIAGNOSTICS:

15 March 2023

Biosynex and Chembio Diagnostics Announce Definitive Acquisition Agreement

Find out more about BIOSYNEX and CHEMBIO: • Project Merci – Schedule to tender offert statement under section 14(d)(1) or 13(e)(1) of the securities exchange...

17 January 2023

Extension of the distribution agreement between Credo Diagnostics Biomedical Pte Ltd and BIOSYNEX S.A.

« BIOSYNEX and Credo Diagnostics have recently strengthened their collaboration by signing an exclusivity agreement for an extended territory including the United Kingdom. Thanks to...

4 January 2023

Biosynex announces the acquisition of a 75% stake in Danish company Medkoncept AS

As part of its international development, BIOSYNEX announces that it has acquired a 75% majority stake,alongside the two founders, in MEDKONCEPT AS, a company based...

20 April 2022

Biosynex has acquired Parakito

« Biosynex has acquired PARAKITO, operated by Hong-Kong based Evergreen Land LTD. The transaction includes assets and IP and the exclusive right to commercialize the...